The Foundations
Claudio Bravo Barrios arrived from Santiago to study at the University of Concepcion. A young 17 year old young  man full of dreams, passionate and innovative, characteristics that with out any doubt, prompted him to realize years later his great legacy:  Inmobiliaria Bravo. (Bravo real estate)
In the 1980s, he entered professionally into the emerging real estate sector in Concepción. A pioneering proposal in this city, designed to provide the best quality of life, through a harmonious combination of space and excellent  terminations. Concepcion was already prepared …
"Believing in what you do is essential, being an entrepreneur requires a dose of risk, a 100% successful  business  does not exist," Claudio Bravo Barrios.
Las Terrazas, Vallarta and Boston are his first projects.  Unique constructions, which begin to define the identity of the company and generate a new luxury housing market, which previously did not exist in the Biobío Region.
Top quality buildings, with vanguard  architecture and located on strategic grounds. Definetly , for Bravo Real estate:  natural environment,   neighborhood life and  location is extremely important. . How do they achieve it? Through a rigorous building process with constructive details correctly executed, thanks to a excellent  team  composed by the best professionals and craftsmen.
"Our most important asset is people, money is obtained when one is responsible, but a good human team takes years become solid," Claudio Bravo Barrios.
Inmobiliaria Bravo proposes, design and potentiates.  Quinta Junge is a  great example of its philosophy:  they developed an exclusive residential neighborhood that began with an urban planning and was concreted with the constructions. Solid sites with unique details, which positioned the seal of this family business.
It has been 30 since they begun,  today, his sons Claudio and Pablo have been the ones in charge of keeping  his legacy. The effort, dedication and passion for the art of building have led Inmobiliaria Bravo to consolidate itself, in Concepción, Santiago and California (United States), as a brand that bets on exclusiveness  and security for their clients.
"We firmly believe in our projects and we hope that more and more people will have the opportunity to experience the quality of life that a Bravo project  delivers" Claudio and Pablo Brazo Erazo.
"I think when you do things right, professionally and with dedication, success is a lot closer," Claudio Bravo Barrios.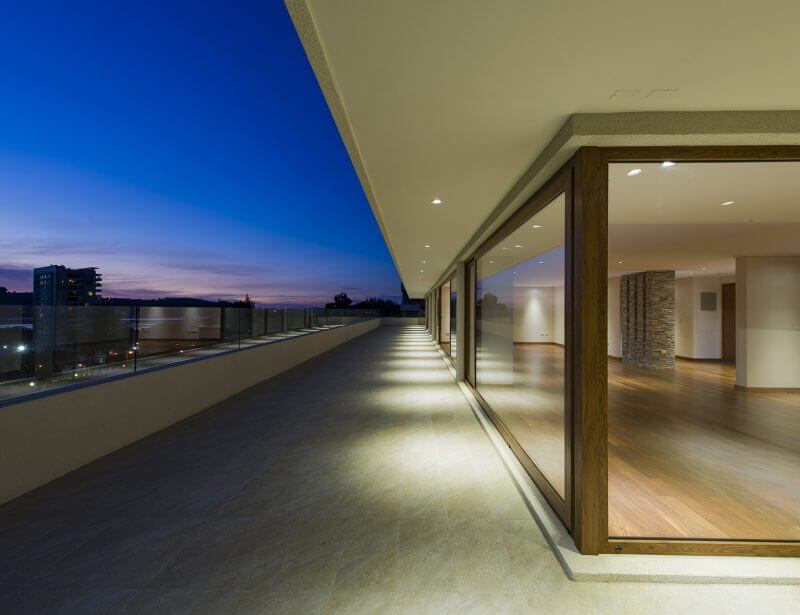 Our history
1990 - 1993
Construction and delivery of our first and emblematic Las Terrazas project, located in Lonco Oriente.
1994 - 1996
After this big success, the second luxury proposal begins. A five-floor apartment complex on Alemana Avenue, Pedro de Valdivia neighborhood: the Vallarta Building.
1997 - 2000
Boston works on English Avenue. This project becomes an icon within the real estate industry in Spain.
2003 - 2008
One of the great milestones of the company. The first project begins in Quinta Junge, : at this stage the urbanization considers the construction of houses and buildings.
2016 – 2018
The construction of the San Ignacio Building begins, a project that marks another milestone in the history of real estate. We managed to build in the first line of Pedro de Valdivia neighborhood, privileging the new tendencies of terraces using the amazing view of the Biobío River.
2013 - 2015
In honor of the founder of the company, the Claudio Bravo Building is built in the same neighborhood.
2011 - 2012
Miró is the fifth building of Inmobiliaria Bravo and the second to be built in Quinta Junge.
2009 – 2010
the first of three buildings in Quinta Junge is finished, the grand and beautiful Mirador Plaza.
2018 - 2019
Adjacent to Clancy Lane, surrounded by mountains and
glorious golf courses, four minutes from world class medical
facilities, within walking distance of The River shops and
entertainment.
2018 - 2019
The architecture of Jardines de Villuco Building dialogues with an imposing residential environment. Consider 36 exclusive apartments of 140 and 200 m2 designed with the displacement of natural light, the amazing view and the spaciousness of the spaces.